Course with Lama Ole Nydahl
February 9 – 10, 2013 | Venue: Arena Sparta Praha – Podvinný mlýn, Prague 9, Libeň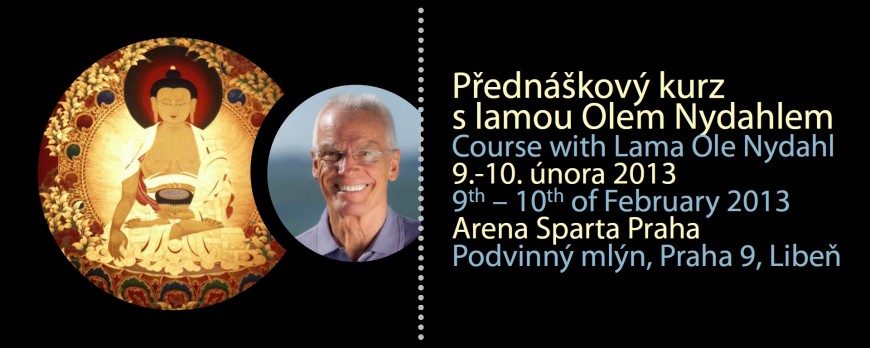 Lama Ole Nydahl is one of the few Westerners fully qualified as a lama and meditation teacher in the Karma Kagyu Buddhist tradition of Tibetan Buddhism. In December 1969, Ole Nydahl and his wife Hannah became the first Western students of H.H. 16th Gyalwa Karmapa, one of the greatest yogis of the past century. After years of studies of Buddhist philosophy and intensive meditation training Ole Nydahl began teaching Buddhism in Europe at the request of the 16th Karmapa. Since then, Lama Ole has been continuously travelling and teaching. Until today he has established more than 650 Diamond Way Buddhist centres worldwide. He also authored several books.
You can download information leaflet here »
PROGRAM
The course starts on Saturday, February 9, at 11 am. The course is expected to end on Sunday afternoon.
Saturday, February 9
11:00-12:00 lecture by travelling teacher
12:00-14:00 meditation on 16th Karmapa
14:30-15:15 for those interested: a visit to the new place bought recently for the Prague Buddhist Centre. Address: Na Maninách 17, Prague-Holešovice, tram station "Maniny"
16:00 lecture on "Buddhism in Modern Times" by Lama Ole Nydahl
There will be a party after the lecture.

Sunday, February 10
10:00-11:30 meditation session
13:00 lecture on "Teachings on Mahamudra" by Lama Ole Nydahl
(Program is subject to change.)
The lectures will be held in English. On Saturday, there will be an on-stage translation, on Sunday via earphones. Radio rental on the spot.
THE VENUE
Arena Sparta Praha – Podvinný mlýn, Prague 9, Libeň
http://www.arena-sparta.cz/cs/kontakty
PRICES
Adult day ticket CZK 400 / EUR 16
Individual lectures on Saturday: Lama Ole Nydahl CZK 300 (EUR 12), travelling teacher CZK 100 (EUR 4)
Sunday EUR 16 (all day ticket only)
Children under 15 years – free admission
Overnight in lecture hall CZK 100 / EUR 4
Tickets will be sold at the venue.
ACCOMMODATION
Sleeping places will be provided in the lecture hall for Saturday night only. For a list of cheap hotels or hostels, see the map.
PARKING
Parking without any limitations will be possible in the Kovanecká Street, namely its part running from the Podvinný mlýn Street to the Kovářská Street, and in the Nad Kolčavkou Street. For more information, see the map.
CENTER
The Prague Buddhist Center will be closed from Friday morning till Sunday afternoon.
BABYSITTING
There will be no babysitting, but a room for parents with children with streaming in the hall.
MEALS
There will be snacks and drinks at the venue. There are several places to eat near the venue, see the map.
CONTACT
[email protected]